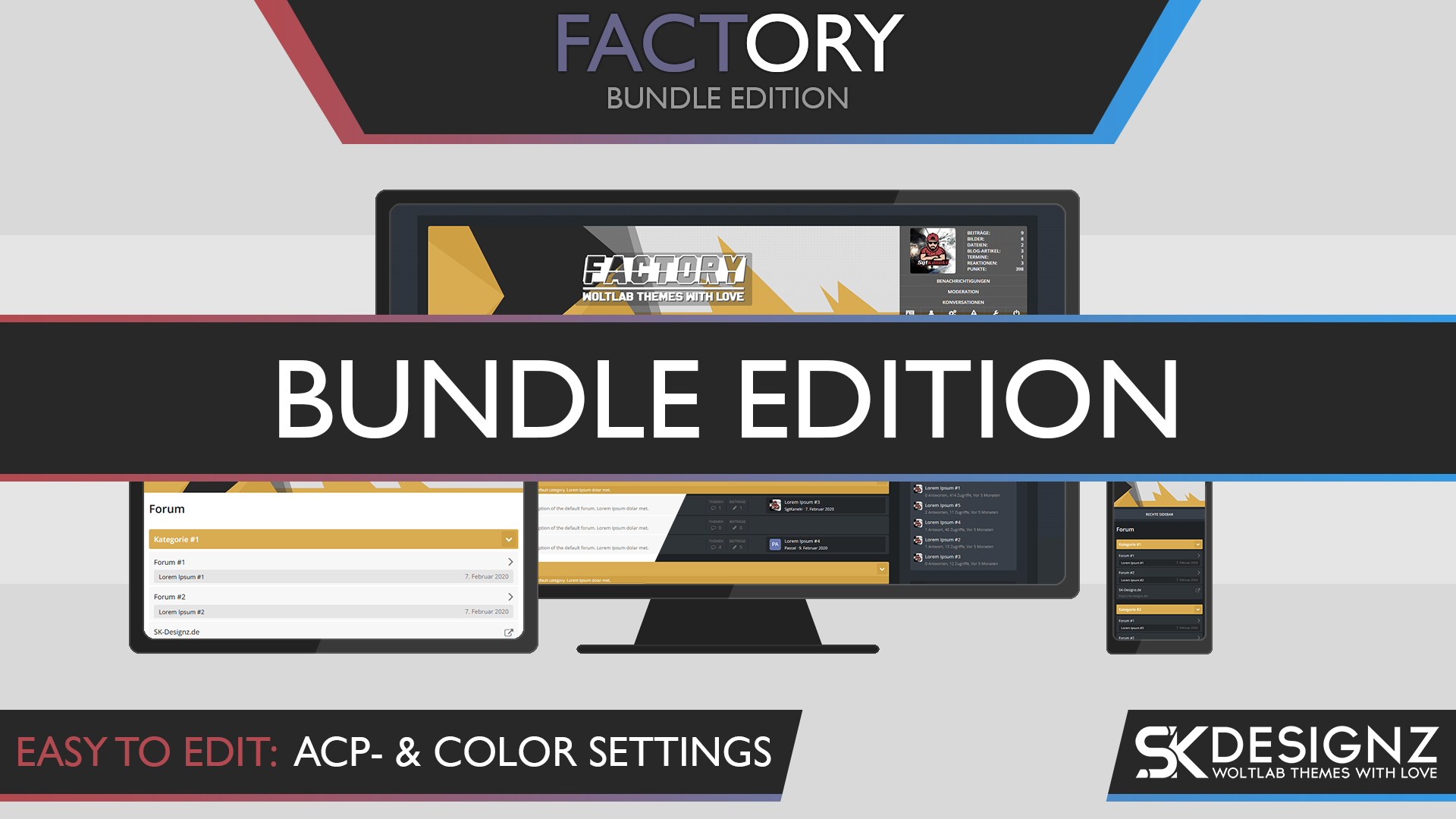 CUSTOMIZATION
ACP SETTINGS:
Our first priority is to maximize the usability and the individualization options (setting options) without sacrificing the usual comfort - at best, to increase significantly. For this reason, an additional plugin has been integrated into the style package and various setting options have been shown / displayed clearly and above all in the ACP. Thus, all important changes / settings can be implemented easily in the ACP without any CSS / HTML knowledge.
You can find these settings in the ACP under "Configuration -> Options -> Style: Factory".
DETAILED INSTRUCTIONS ON EDITING / COLOR MATCHING / AND REPLACING THE GRAPHICS: PRESS HERE
ADDITIONAL BOXES / FEATURES
ADDITIONAL USER: User statistics and the most important functions / links clearly placed at the header.
ADDITIONAL FOOTER: Up to 4 categories with a large number of links and social media channels clearly placed in the footer of your page.
ADDITIONAL PARTNER: Up to 5 banners / graphics of your partners clearly placed in the footer of your page.
USER STATISTICS: Shows the user statistics clearly below the user control center (UserPanel) in the header.
IMPORTANT NOTES / HELP (TUTORIALS)
SUPPORT AND HELP: PRESS HERE
INSTALLATION GUIDE: PRESS HERE
UPDATE GUIDE: PRESS HERE
COPYRIGHT - BRANDING FREE:
To remove the copyright contained in the design (footer) you can purchase a Branding Free license in our shop.
The removal of the copyright without the possession of a valid Branding Free license is a violation of the license terms!
BUY A BRANDING FREE-LICENSE: PRESS HERE
GENERAL INFORMATION:

Please note that the special user control center view (UserPanel) can lead to display errors if there are more than 3 active links.
By purchasing you agree with our terms and conditions and our license terms.
The use of the product is per license for a domain / website approved, for use on additional domains / websites must be acquired in each case a further license.
TERMS AND CONDITIONS: PRESS HERE // LICENSE CONDITIONS: PRESS HERE
Published Versions
Factory - Bundle Edition (WSC 5.4.X) 5.4.1 (Aug 15th 2021)

Factory - Bundle Edition (WSC 5.3.X) 5.3.2 (Aug 15th 2021)

Factory - Bundle Edition (WSC 5.2.X) 5.2.5 (Aug 15th 2021)

Factory - Bundle Edition (WSC 3.1.X) 3.1.5 (Aug 15th 2021)

Factory - Bundle Edition (WSC 5.4.X) 5.4.0 (Jul 11th 2021)

Factory - Bundle Edition (WSC 5.3.X) 5.3.1 (Apr 23rd 2021)

Factory - Bundle Edition (WSC 5.2.X) 5.2.4 (Apr 23rd 2021)

Factory - Bundle Edition (WSC 3.1.X) 3.1.4 (Apr 23rd 2021)

Factory - Bundle Edition (WSC 3.0.X) 3.0.4 (Apr 23rd 2021)

Factory - Bundle Edition (WSC 5.3.X) 5.3.0 (Nov 17th 2020)

Factory - Bundle Edition (WSC 5.2.X) 5.2.3 (Nov 17th 2020)

Factory - Bundle Edition (WSC 3.1.X) 3.1.3 (Nov 17th 2020)

Factory - Bundle Edition (WSC 3.0.X) 3.0.3 (Nov 17th 2020)

Factory - Bundle Edition (WSC 5.2.X) 5.2.2 (Jun 11th 2020)

Factory - Bundle Edition (WSC 3.1.X) 3.1.2 (Jun 11th 2020)

Factory - Bundle Edition (WSC 3.0.X) 3.0.2 (Jun 11th 2020)

Factory - Bundle Edition (WSC 5.2.X) 5.2.1 (May 30th 2020)

Factory - Bundle Edition (WSC 3.1.X) 3.1.1 (May 30th 2020)

Factory - Bundle Edition (WSC 3.0.X) 3.0.1 (May 30th 2020)

Factory - Bundle Edition (WSC 5.2.X) 5.2.0 (Mar 1st 2020)

Factory - Bundle Edition (WSC 3.1.X) 3.1.0 (Mar 1st 2020)

Factory - Bundle Edition (WSC 3.0.X) 3.0.0 (Mar 1st 2020)
No statement of value added tax, as small business owners in accordance with § 19 para. 1 UStG. or not subject to VAT according to § 19 1 UStG